Is your business currently on Facebook? If not, it might be time to reconsider.  Setting up an account or fan page takes only minutes and gives you direct access to the social networking giants millions of users. Below is an interaction that took place earlier today: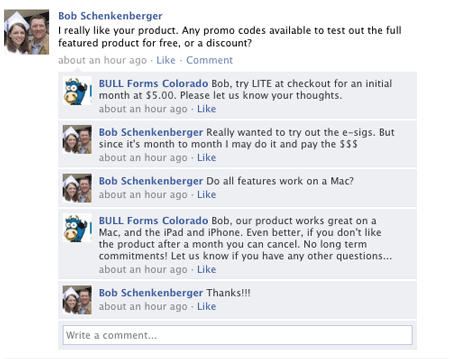 Bob ended up signing up for our service and hopefully will be a satisfied customer. Follow Bob on twitter here @bobschenk and like his company website here. Sure, this interaction may have happened over email, but with social media becoming more of a factor in the way we communicate, why not capture all potential leads and communicate with them via their preferred channel.
We feel our solution is the best way for Colorado Real Estate agents to complete all of their forms.  If it is not, the only way we will get better is by listening to our users.
As we have said before, we want feedback.  If you prefer to reach us by Facebook, can you do so here, if you want to reach out to us via twitter, our handle is @bullforms_co and as always you can contact us via email by using our contact page.