We are excited to announce that we have just launched a new way to use BULL Forms.  Most of you are used to seeing a screen such as the one below when completing a contract.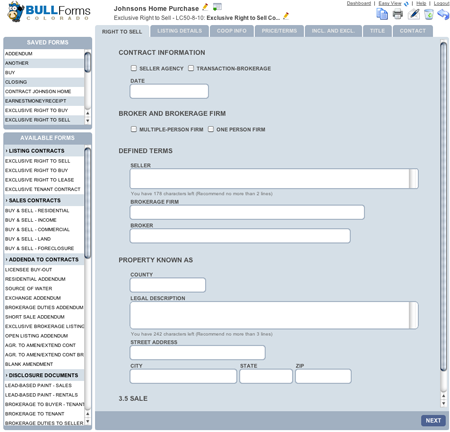 We are now calling this view "quick-view."  Our intentions with this view were to make completing contracts as easy as possible by removing all of the additional text that experienced Colorado Real Estate agents do not need to read when completing their contracts.  While reception to "quick-view" has been mostly positive, we have received several requests to be able to view the contract while inputting information.  Another requested feature was strikethrough.  Given that you cannot view the entire text of the real estate contract was not visible in "quick-view" it was impossible to implement strikethrough.
Therefore, we decided to launch "classic-view."  Now, when you toggle your view to "classic-view" you will see something like the image below: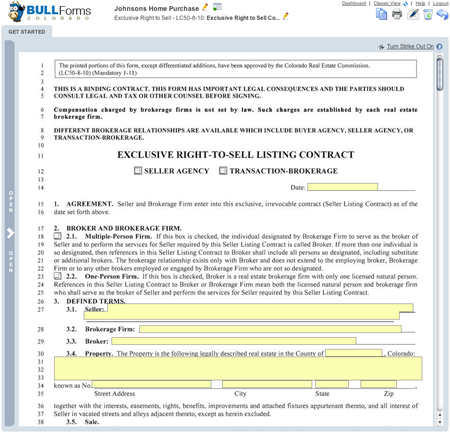 Using "classic-view" you can now see all of the Division of Regulatory Agencies (DORA) contracts while you are completing them. You can also easily switch between the views by clicking on the view toggle near the top of the page.

While you are in classic view you can also use the strike through feature.  Start by clicking on the "Turn Strike Out On" link, as pictured here: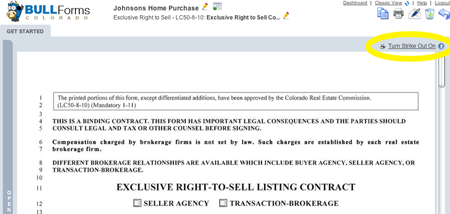 Once you have clicked on the link, your cursor will take a new shape, start by clicking where you would like to begin striking out, drag your mouse along as far as you would like to strike out.  Don't worry, the tool only allows you to create straight lines! When you have reached the end of the sentence or the end of the area you would like to strike out, click again, you should see something like below: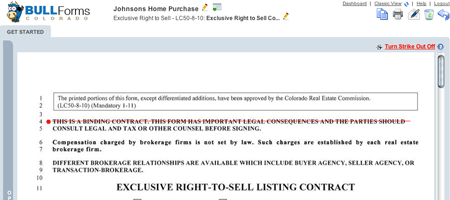 Once completed fret not, it is possible to remove the strike out from the document.  You can do so by clicking on the red "X" at the end of the line, as highlighted below:

This about wraps up our coverage of our new "Classic-view" and strike out features.  Now get out there and generate some Colorado Real Estate Contracts and make some deals!
As always, if you have any questions or concerns, please drop us a line.
Thank you,
BULL Forms Team